A trip to Daringbadi, was long overdue. We had been thinking of visiting this gem of Odisha since long. So when our friend wanted to go for a Daringbadi tour, more precisely a road trip, we just could not say no to it. The journey becomes more beautiful when you have childhood friends for company. Located amidst pine forests and coffee plantations, Daringbadi is a charming hill station in Odisha situated at an altitude of 3000 feet in Kandhamal district of Odisha. We came to know that this hill station was named after one British Officer named Dering.; Our first stop for the day was the Midubanda waterfall. this waterfall is located a few kilometers away from the main town. There is a fleet of stairs going down all the way to the waterfall. The place is quite a beautiful one.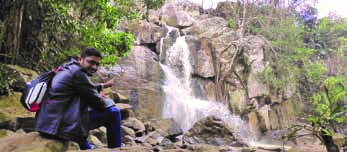 The pine forest lies on the way to the Midubanda Waterfall, so while returning, we stopped at the forests and went inside to explore. Then we returned to our hotel, had our lunch and then started for the next few places. You will definitely see the coffee and spice plantations while on your way to Daringbadi. There is also a garden where you will find the coffee and spice plantations. We saw the pepper plants and roamed around for some time in the cool shade of the gardens.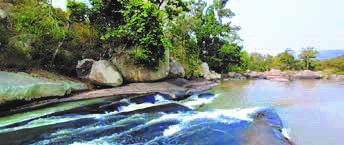 The Emu farm is around 12 km from the Daringbadi town on the way towards Baliguda. There is a small enclosure where few emu birds were kept. Around 1 km from the Emu Farm is the Lovers' Point. I don't think many lovers visit there in the afternoon. At least we were the only ones there when we visited. The road to the Lovers' Point is also a bit rough. But the place is extremely beautiful. The river is flowing by and you can simply sit on the huge rocks and enjoy some quiet time. It is a place to experience the silence of nature, or maybe have a love affair with nature herself! So you should not miss this place on your Daringbadi tour.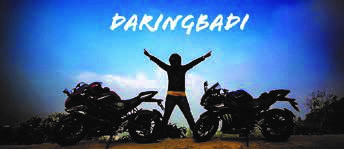 The Butterfly Park is located within the Hill View Park and the Hill Top Viewpoint is just opposite that of the Hill View Park. The Hill View Park has a beautiful and well-maintained garden and a garden of medicinal plants. There is also a display of the Kutia Kondh tribe inside the Hill View Park. Daringbadi Nature Camp & Belghar Nature Camp offer accommodation options for travelers coming to this part of Odisha. Daringbadi is a perfect getaway for people who are looking for some time off from the mundane city life.
Sambit Kumar Makhuda is a Sr Visual Editor and a road tripper by passion.