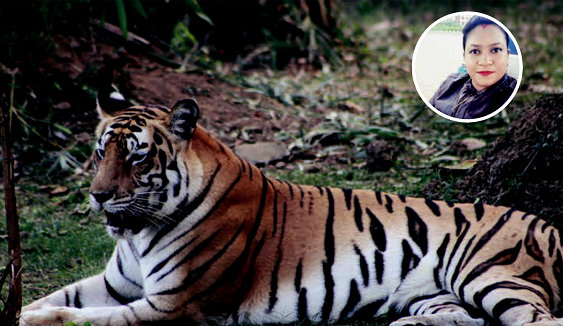 After my husband relocated to Bhubaneswar following a job change, I stayedwith him for a few months as the college where I teach was closed due to Covid. Looking for an escape from our daily routine, we planned to visit Nandan Kanan Zoological Park which is very near to the city and well connected by roads. After reaching there we realized how great the place is to take a day off from our busy life.
Spread across a huge area covered with different flora and fauna, the main attractions here are the many wildlife species. Entry fee is very nominal and the process was very smooth. In each and every corner you will get the direction signages so that you don't miss any corner of the park. Plenty of resting places, drinking water facilities, dustbins and of course neat and clean Toilets make this place a tourist friendly destination. You can opt for guides, battery operated cars to roam here. But, as we had time we decided to roam by ourselves.
Now, let's skip to the good part. We were mesmerized to see so many animals living perfectlyhealthy and happy (as we saw some bears dancing before the crowds). From Bears to Lions, Elephants to Sambars (Deer) the display of wildlife here is very extensive. We even saw zones specified for the nocturnals, reptiles, birds and fishes. In every zone, all the details related to the species were well mentioned in boards – their scientific names to their food habits and their natural habitats. Reading these took me back to my biology classes during school days.

The best part of this park is to witness a wide number of tigers, including Royal Bengal Tigers, White Tigers and the rare Melanistic Tigers. My photography freak husband in his words 'got some of the best shots of life ever in DSLR'. And the day doesn't end here, there is a Jungle safari as well where we witnessed more animals in the wilderness. After a long day of roaming in an attempt to not leave out any corners, we had a great Buffet lunch in the restaurant located inside. Food was tasty and the place very neat and clean. With a full day filled with these amazing activities we returned home with a great memory and a memory card full of pictures.

Gagori Bhattacharya is an Assistant Pro-fessor at Kingston Law College, Kolkata.